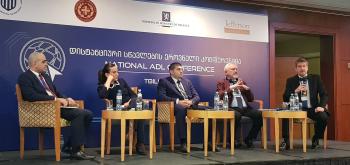 We supported The Defence Institution Building School (DIBS) of MOD of Georgia to organize first National ADL conference in Tbilisi. The conference was part of the Norwegian ADL Capacity Building Project in Georgia.
The conference, which was opened by the Deputy Minister of Defence – Mr. Nukri Gelashvili, attracted participants and presenters from institutions nationwide practicing online learning.
Followed by other distinguished guests at the conference, Dr Presnall addressed the importance of early adoption of emerging technologies into military educational systems.
Read More